DRAWING AND PAINTING COURSE, by Aleksandra Kalisz
November 2018 – July 2019 | Wednesday 18h – 21h OR Saturday 10h – 13h
Novembro 2018 – Julho 2019 | 4ª feira 18h – 21h OU Sábado 10h – 13h
Classes in English/Spanish for age 15 up | Aulas em Inglês/Espanhol para idades superiores a 15 anos
Registration | Inscrições: aleksandraakalisz@gmail.com
Aleksandra Kalisz Was born in Gdynia, Poland in 1992. Currently living and working in Guimarães, Portugal. Studied Painting in Academy of Fine Arts in Gdańsk where she got a Master degree in the studio of Maciej Świeszewski in 2016. In 2014/15 stipendist of LPP Erasmus programme in Universidad Complutense de Madrid. Finalist of competitions in Poland "Ale sztuka!" and "Promotions" where she got a distinction of "Center of Contemporary Art in Toruń". In 2017 she was selected for an Art Residency in Marrakech, Morocco. She took part in exhibitions in Poland and abroad. Her works are held in private collections in United States, Germany, Denmark, Morocco and Poland. Specializes in painting, drawing and installation.
aleksandrakalisz.com
DRAWING AND PAINTING COURSE
Learn to draw and paint with the painting and drawing course – a creative and ideal way to get to grips with art techniques and create your own beautiful works. Whether you are just starting off, returning to art after years without practice, or a fine art student and already have some knowledge of technique, you are able to choose between basic or advanced course.
Courses take place in CAAA in Guimarães and they last 8 months (32 meetings), with a once a week 3-hour session. Classes may be extended according to each individual's progress and will. Group sizes are kept small (up to 3 people), so each participant gets lots of one-on-one attention. The course aims for people 15-years-old and above and is carried out in Spanish and/or English. Participants can choose to either have their own materials or they can be provided with the set when they enroll. The tutor is a Polish artist –Aleksandra Kalisz who graduated from Academy of Fine Arts in Gdańsk in 2016. She is actively practicing art and has wide range of experience as she did a student exchange in Universidad Complutense de Madrid as well as art residence in Morocco.
BASIC
During the course, participants will learn how to use different materials, among the others, pencil and charcoal. In addition, they will have an introduction to the use of acrylic colours. Using these materials, students will learn to portray still-life paintings and the human body with real models in person.
During 1st module of the course, students will learn basic drawing techniques including chiaroscuro, line and how to reproduce an object looking at proportion, shape and natural representation. They will learn how to use charcoal and pencils in most efficient way. Participants will discover different compositions and perspectives.
With the introduction to painting, students will learn about color theory and use of paints. 2nd module will deepen the knowledge of composition and. Participants will study value, detail, techniques, perspective, and composition along with the fundamentals of creating depth.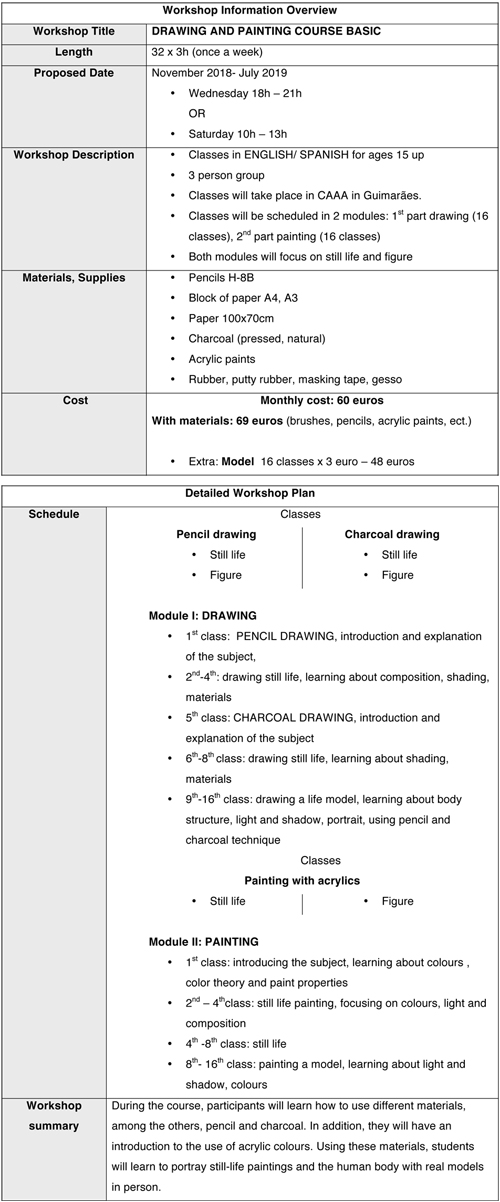 ADVANCED
During the course, students will further their knowledge of the use of pencil and charcoal, acrylic colors and oil painting. Using these materials, students will master to portray still-life paintings and the human body with real models in person. They will learn mixing- techniques. The combination of drawing and painting techniques will help students to develop a new language and their personal drawing style.
Colour will be introduced further with acrylic or oil, with focus on colour tones, light and dark nuances, and the effects of paint on different materials- paper, wooden board and canvases. The whole paintings' creation process will be analyzed and practiced, from the preparation of canvases to varnishing.
Participants will be introduced to art market and strategies helping them to pursue the art career- managing social media, creating portfolio and artist statement.