DEEP SOUTH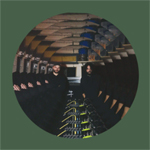 2 de Setembro 21h30
entrada livre
Deep South é um projecto musical e performático entre os músicos e artistas visuais Jorge Quintela e Davide Luciani. A sua música explora os campos da electrónica bruta, bem como a composição eletroacústica harmónica e textural. O seu som pode ser descrito como uma onda de vozes interpoladas, na qual o time stretching, feedbacks, sobreposição de harmonias e uma formulação rítmica assimétrica criam uma densa experiência sonora. A sua performance musical é informada por polirritmias, quietude, caos onde géneros e suportes se misturam e sua origem se perde.
Com sede entre Berlim (DE) e Porto (PT) eles formaram-se em 2020. O Deep South está actualmente a finalizar o para lançar seu primeiro disco em 2022 e apresentar seu projeto a um público mais amplo através de performances ao vivo, instalações e peças audiovisuais.
Deep South is a music and performative project between electronic musicians and visual artists Davide Luciani and Jorge Quintela. They music explore the fields of raw electronics as well as harmonic and textural electro acoustic composition. Their sound can be describe as a wave of interpolated voices, in which time stretching, feedbacks, layered harmonies and crumbling drumming participate to a dense sonic experience. Their output is informed by polyrhythms, stillness, hecticness and a music where genres and media are mixed and their origin lost.
Based between Berlin (DE) and Porto (PT) they formed in 2020. Deep South is currently working to release their first record in 2022 and to present their project to a broader audience through live performances, installations and audiovisual pieces.