Transparency, Reflection and Colour, by Marisa Ferreira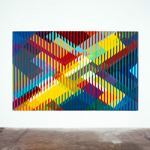 Opening December 3rd / Until February 18th
For her first solo exhibition in Portugal, Marisa Ferreira presents a new series of works with the aim of investigating the place of colour in her artistic practice. The works reflect on the ontology of painting and present how time, space and colour occur as sensory phenomena. Combining principles of movement with colour theory, the project "Transparency, Reflection and Colour" (2016) thus analyses the observer's physical and mental participation, according to his experience and movement in space.
BIO Marisa Ferreira (1983)
Born in the birthplace of Portugal, Marisa Ferreira lives and works in Oslo, Norway since 2008. She has a degree in Visual Arts from the Universidade de Evora since 2007 and in 2008 completed a postgraduate degree in Art and Design for Public Space, Faculdade de Belas-Artes of Universidade do Porto.
She has participated regularly in collective exhibitions since 2003 and has already held several solo exhibitions in Norway and Germany, including Colour + Form (2012), "Space, rhythm & movement" (2015) at Galleri Gann (Norway) and Messmer Kunsthalle (Germany). One of her most known works is "Rear Window" (2015), a site-specific work for the facade of the central station of Oslo.
Marisa Ferreira is currently a fellow of the Bildende Kunstneres Vederlagsfond and received scholarships to support the artistic activity by the Norwegian government in 2011 and 2012. In 2015 and 2016, she received support from the Kulturrådet – Arts Council Norway for the project Space, Rhythm & Movement which is still under development. Her work is part of several several private and public collections in Norway, notably the Stavanger Kunstmuseum, Wintershall Art Collection, Deloitte Norway, Germany – Messmer Foundation, Spain, Switzerland, France and Portugal.
The artist's work is based on a rigid geometry of forms and an idiosyncratic chromatic palette. The meticulous formal composition, coupled with bended aluminum surfaces that release the paint from the flat condition, creates an effect that simultaneously suggests and nullifies the perception of movement. The works proposed by the artist remain in constant mutation and the interpretations and sensations multiply by the infinite points from which one can observe. "The movement creates a space-time continuum which, in the first place, directly incorporates into the image the respective place of the spectator, and secondly, it surpasses the passive visual encounter, as a rule, of the latter with the work of art." As curator Borda-Pedreira wrote in 2013 "Marisa Ferreira makes us aware of our own subjectivity, since two people seeing the same painting at the same time may have completely different experiences. This social implication brings Ferreira's work out of the purely scientific world into the cultural sphere."