ESTE LUGAR LEMBRA-TE ALGUM SÍTIO?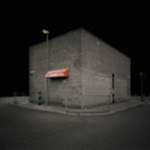 Opening october 22, 4pm | until november 26
Curator: Miguel Sousa Ribeiro
Artists: Ana Bezelga, Carlos Bunga, Carlos Nogueira, Diogo Pimentão, Edgar Martins, Fernanda Fragateiro, Inês d'Orey, José Bechara and Nuno Sousa Vieira
The place is where we find it, or rather, where we activate it, as we were told by Anne Cauquelin. And is also she who speaks about an intangible place that is embodied by our presence and activation. Then it from incorporeal, becomes body, precisely by the rendez-vous and thus the void / vacuum is filled by allowing the access; the meeting.
Also the state of the art with the architecture tends to cross and to cohabit, to merge – not always with an easy relationship – to the extent that both disciplines are seen to question, since at least the last century, in a mutual way, thus enabling the creation of hybrid courses, starting forthwith by the interest that artists and architects share by the space, place, real site, precisely the one where the presence is felt. Of the body. Of the Man. Of the Life. In this context the selection of these artists and their works hereby selected and displayed, appoint to these issues and suggest ways and different possibilities in how these terms relate or differentiate to one another; approach or move away; to question or argue – in all sorts of ways, creative processes, constructive and investigational – with different artistic practices that pass by the sculpture (Ana Bezelga (built for this project), Carlos Nogueira, Diogo Pimentão; José Bechara, Nuno Sousa Vieira), by the video (Carlos Bunga and Fernanda Fragateiro), by the object (Fernanda Fragateiro), by the photography (Edgar Martins and Inês d'Orey), and a site specific work – a sculpture designed for an outdoor and adjacent space to Nuno Sousa Vieira CAAA, designed specifically for this project and exhibition space.
As the tension and the existing game between life and art, art and architecture and the aesthetic – being it the visual or the relational – we have intended to launch and develop here another (game) between the place and the site. These artists, each in their own way, offer an interesting dialogue with any of the games.