Fashion and Religiosity in Body Marks, Cia.Excessos /1-30 june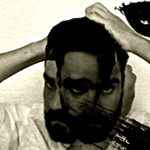 Exhibition by Cia. Excessos – Tales Frey and Paulo Aureliano da Mata
Opening July 1st, 4pm
This series of artistic work emerges as a reflection on the mobilization of the body in performative and ritualistic practices that articulate in some way with fashion and/or religiosity, two territories at same time contrasting and contiguous in contemporary culture.
It is assumed, in this body of masterpieces, that the body is a symbolic operator of a great importance and occupies a crucial place in the artistic and cultural figurations, starring the plural reunion arts with the obsessions of contemporary as too with most ancient ritualism.
The manifestation of the performance art and its developments in documentation as videographic and photographic media, as well as new languages ​​caused (video-performance, photo-performance, etc.), embody a space that corresponds to the elucidation of the ephemeral and the enduring while.
By Tales Frey, are exposed the following works: Re-banho (2010), Beija-se (2012), Atendo ao Molde (2013), Sede Vós (2013), Por um Fio (2012), (De)reter-se (2013), Aliança (2013), Dismorfofobia (2012), Proxim(a)idade (2013), Faceless (2011). By Paulo Aureliano da Mata: Romance Violentado (2011).
Both artists have come together as a collective (duo) in 2006 and founded the Cia Excesses in 2008.
The main feature in their conception is the multidisciplinarity. This duo has been building a hybrid form of theatrical research, concerning the dialogue among video, theater, performance art and photography.
The company also has invited artists to join the team in some works.
Live
Proxim(a)idade. 20 June. 8pm. Black Box.