"The Low Ride Pleasure", Pedro Magalhães /February 17-29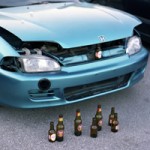 Pedro Magalhães was born in Porto in 1975, city where he lives and works.
His artistic practice is mostly photographic, with a serial approach to each subject.
His work comes from the research on amateur practices.
In this exhibition, The Low Ride Pleasure, Pedro Magalhães enters the world of car tuning in Portugal, an activity considered illegal in this country.
The car tuning culture is connected to matters of identity and can be read as an aesthetic extension of the individual and his personality through a series of changes ranging from the interior to the exterior of the car, printing on this object the idiosyncrasies of its owner. All the chosen extras allow a different behavior and appearance, turning something that is mass-produced in something unique, through a do it yourself process like some sort of vernacular engineering.
Car tuning concentrations we see in this series are places where boundaries are challenged and where eccentricity prevails. They normally take place away from large urban centers, where a subculture displays aesthetic and tastes that go beyond the prevalent standards of choice and preference, revealing the result of the lapidation of an object in an endless quest for overcoming the banal and the charismatic statement.