Not being able to live but one life, de Ana Rego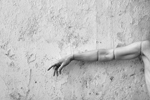 13 de Setembro | até 26 de Outubro
Em parceria com os Encontros da Imagem, o CAAA acolhe a Exposição da fotógrafa Ana Rego.
Confrontada com um evento familiar traumático, depois de ver a minha tia ficar completamente paralisada e incapaz de se comunicar após um AVC – Síndrome de "Locked-in" – comecei a questionar sobre o conceito da vida e a reflectir sobre como nossos corpos e nossa consciência participam deste jogo intrincado.  "Encarcerados" dentro de si mesmos, estes pacientes não têm como se mover, falar, mastigar ou engolir de forma espontânea… Incapazes de qualquer expressão facial, conseguem apenas mover os olhos e pálpebras, mas estão plenamente conscientes. Reclusos num corpo que já não lhes pertence, vivos num corpo "morto", usam a memória e imaginação como ferramentas de sobrevivência. Enfrentando sentimentos muito contraditórios durante este processo, o meu objectivo inicial era investigar sobre os potenciais riscos ou benefícos inerentes ao desenvolvimento biomédico, especialmente no campo da reanimação e reabilitação neurológica… A sociedade atual tem a sofisticação tecnológica para manter um corpo vivo, mas será que pode restaurar as habilidades humanas mais fundamentais? Com uma formação científica, sou de alguma forma levada a encarar-nos como um grupo complexo de átomos, partículas, veias, axónios, ossos – matéria, que é guiada pelo nosso poder de pensar, agir, e logo, de existir…  O que significa então estar vivo?  Decidi abordar este projeto de forma poética e subjetiva, onde a narrativa não está mais ligada à minha própria história pessoal, nem à minha tia como personagem principal. Em vez disso, "Não ser capaz de viver apenas uma vida" aborda a dualidade do corpo-mente e o significado de estar vivo quando totalmente privado de autonomia e capacidade de comunicação.  Este é um projeto sobre trauma e tristeza e traduz meus conflitos internos ao lidar com assuntos de vida e morte. Reconhecer a violência, a dor e a solidão, tentar representá-las tanto na sua beleza como na sua crueldade foi essencial para superá-las
Ana Rego
Biografia
Ana Rego (1974) é uma fotógrafa portuguesa. Licenciada em Ciências Médicas, estudou Fotografia no Porto e terminou recentemente um master em Fotografia Artística.
Impulsionada por projectos documentais de investigação, procura alertar para temáticas inspiradas em questões médicas e socias e suas consequências. Ao utilizar a abordagem interdisciplinar e colaborativa da arte e da ciência, procura responder de forma inovadora às questões éticas e emergentes colocadas à sociedade actual. Ao criar narrativas que lidam com os potenciais riscos e recompensas inerentes ao desenvolvimento tecnológico biomédico, pretende exercer um questionamento sobre como a nossa sociedade se compromete com essas mesmas consequências.
Já teve projectos sobre o Afeganistão, Amazónia, Zimbabué, Timor-Leste e Portugal. O seu trabalho esteve exposto em Portugal (Porto, Lisboa, Coimbra) e Timor-Leste e ganhou uma menção honrosa no Novos Talentos da Fotografia FNAC (2004).
September 13th | until October 26th
Confronted with a traumatic family event, after seeing my aunt get completely paralyzed and unable to communicate over an ischemic stroke – locked in syndrome – I started questioning the concept of life itself and reflecting upon how our bodies and our consciousness take part in this intricate play. With a scientific background, I am somehow forced to envision ourselves as a complex group of atoms, particles, veins, axons, bones and blood. Matter, that is, guided by our power to think, therefore, to exist… I decided to approach this project through a poetic and subjective way, where the narrative is no longer attached to my own personal story, neither to my aunt as the main character. Instead, "Not being able to live but one life" addresses the duality of body-mind and the meaning of being alive when total deprived of autonomy and ability to communicate. This is a project on trauma and sorrow and translates my inner conflicts when dealing with life and death matters. To embrace into that narrative, I invite you to lie on a bed for ten minutes without talking, chewing, moving, swallowing or coughing…, incapable of any facial expression, only moving your eyes and lids, but fully aware, conscient. And now try to visualize this forever! Your eyes, the sole windows facing the outside and doors to the inside. Secluded in a body you no longer own. Alive in a dead body. Watching hours and days go by, dusk and dawn, flower petals wither and fall. Never able to regain control over your body. Memory and imagination as the sole tools for survival… this is living in "locked-in syndrome". Recognizing the pain and the solitude, trying to represent it in its beauty as in its cruelty was essential to overcame it.
Ana Rego
Biography
Ana Luisa Rego (1974) is a portuguese-based photographer. She is graduated in Medical Sciences, studied Photography in Porto and is currently attending a master in Artistic Photography.
Driven by research-led and self-initiated documentary projects, she seeks to document thematics mainly inspired by social and medical issues and their consequences. By using the interdisciplinary and collaborative approach of art and science, she seeks to respond with innovative ways to emerging and ethical questions posed to today's society. By creating narratives dealing with the potential risks and rewards inherent to biomedical technological development, she wants to exert an effect on how our society pledge with these consequences. She has had projects in Afghanistan, Amazonas, Zimbabwe, East Timor and Portugal. Her work has been exhibited in Portugal (Oporto, Lisbon, Coimbra) and East Timor and she won an honorable mention at FNAC New Talents of Photography (2004).