Blue in Turquoise Jaguar, by Daniel Lima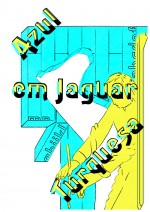 Blue in Turquoise Jaguar
by Daniel Lima
November 11th, 4pm / until January 27th
A series of images that do not respect narrative laws but are loyal to the fictional discourse of representations.
Daniel Lima is a illustrator and comic book author.
He has published works in publications such as Público, Mis Primeras 80,000 Palabras, Animalaminute, O Independente, Sunday Show, Conhecer Magazine and L'officiel by Duetto, among others.
He's a regular participator in exhibitions of both comic books and illustration.
Daniel is currently a teacher at Ar.Co in the Illustration / Comics department.