Reacting to Time – Transmission Workshop II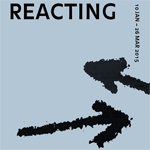 REACTING TO TIME – the Portuguese in performance art
Creation and artistic direction Vânia Rovisco
Artistic consultants André Lepecki, Verónica Metello
Transmission Workshop II
In the years around the Portuguese revolution of April 25th 1974, a peculiar dynamic ruled the Portuguese artistic activity. A series of events tuned Portugal to the issues and practices that drove the international artistic avant-garde. Between 1972 and 1985, performance art embedded itself into the fabric of Portuguese art history, and in that time lapse, Albuquerque Mendes, Fernando Azevedo, João Dixo, Artur Barrio, Gerardo Burmester, Miguel Yeco, Silvestre Pestana, Elisabete Mileu, Manuel Barbosa, Fernando Aguiar, António Olaio, Ção Pestana, Rui Órfão and Alberto Carneiro, define the coordinates of the first Portuguese body of performance.
REACTING TO TIME – the Portuguese in performance art, wants to update the specific bodily memory of those early experiments. Access the source of that information, update it, pass it on by direct experience and present it publicly: these are the goals of this project. It's about building a living archive embodied in the present. REACTING TO TIME – the Portuguese in performance art takes this period and group of artists as reference. The two axis of the project, research and update, are accomplished by Vânia Rovisco in the Transmission Workshop, through a series of strategies for the transmission of the information collected directly from the authors – whenever it was possible – during the research process. The material that Vânia transmits in practical performance, from one body to the other, to all the participants of the workshop, is the bodily memory of the first experiences of Portuguese performance art. The workshop will end with an object to be presented by the participants, increasing the widespread of this knowledge.
+info:
Workshop dates: January 19-24/ from 7pm to 11pm and a break from 9pm 9:30pm
Presentation: January 24th at 4 pm / free entry
Applications: geral@centroaaa.org
The workshops are limited to 10/15 participants with ages between 16 and 45.
The participation implies that you are available for the final presentation and is free of charge.