Artist in residence – Jaye Rhee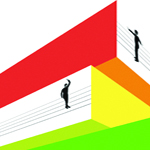 Artistic Residence: June 7th to September 26th
Exhibition Opening: September 27th
Jaye Rhee revels in the space between the ironic and the poignant. Working with notions of "real" desire and "fake" objects, her work hinges between artifice and authenticity. Through her "real fakes" and "imageless images," she activates a new visual space in which artifice evaporates to reveal the image in its naked materiality. Rhee, originally from Seoul, completed both her B.F.A and M.F.A at the School of the Art Institute of Chicago. Her work has been exhibited internationally, including the Queens Museum of Art, the Bronx Museum, the Albright Knox Art Gallery, the Kobe Biennale 2007, the Mori Museum (Tokyo), and the Seoul Museum of Modern Art. In 2009, she was selected for residency at the Skowhegan School of Painting and Sculpture, the Gyeonggi Creation Center Pilot Program (Korea) and the Palais de Tokyo Workshop Program (Paris). Awards include: Yonkang (Doosan) Art Award (2011), Franklin Furnace Fund (2010), Art Council Korea Grant (2014 and 2010), and Korea-America Foundation for the Arts Award (2008).  In 2010, Specter Press released her monograph Imageless, covering her work from the last 10 years and including essays by Carol Becker, Raul Zamudio, Sara Reisman and Edwin Ramoran. Her work has also been featured in an essay by Carol Becker published in Buddha Mind in Contemporary Art (University of California Press), and has been reviewed by the New York Times, ARTnews, Palm Beach Daily, Artslant, Art Asia Pacific Magazine.
Artist statement by Jaye Rhee
My work explores the evasive nature of authentic desire.  By focusing on the tension between "real" desire and "fake" objects of desire, as embodied by images—in the broadest sense of the word—my work presents "real fakes" and "imageless images."
My work is thus concerned with making real fakes by forthrightly showing artifice without the concealment of ambiguity.
My goal is to create a new visual space in which artifice evaporates through the very naked presentation of images as naked materials.  This "honest artifice" would ultimately lead one into an experience of reflection about one's own nostalgia.