1960, by Rodrigo Areias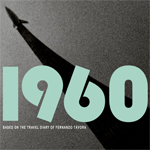 15, 16, 19, 20, 21  May, 9:45pm
17 May, 9:00pm
18 May, 6:00pm (with the presence of the director)
Synopsis
1960 is a home movie in the form of a travel diary in Super 8mm. Intending, through architecture and with Fernando Tavora's Travel Diary as its starting point, to depict the journey which the architect made in 1960.
Statement
With this film, my idea was to set off from Fernando Tavora's notes and sketches and to revisit some of the places that the architect visited, described and illustrated on his journey in 1960. And to look at architecture in a global context.
When I first thought about the film, I saw it as being complementary to a separate fiction film, which would incorporate the super 8mm documentary. It will be a Film Noir, shot entirely in Fernando Tavora settings in Guimaraes, where a filmmaker, making a documentary in super 8mm about the architect, is murdered…
While the film continues to be delayed (as a result of the flurry of production in which we are still submerged), the documentary part of the two has been completed.
What inspired me to make this film, were the texts that Fernando Tavora wrote during his journey. The one that marked me the most, was about his visit to Taliesin and likewise the passion with which he wrote about the experience, which he himself claimed was transcendental. I wanted to bring the texts to life, but without being obvious or illustrative. Rather to revisit them with the due distance of time.