Over the hills, by Eduardo Brito & Joana Gama /Sep 7th-29th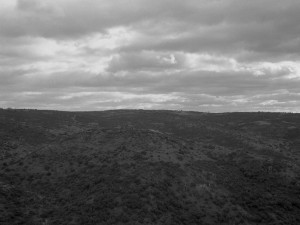 Over the hills is a multimedia project motivated by the piano piece "terras por de trás dos montes" ("lands behind the hills") by Portuguese composer Carlos Marecos (b. 1963). This musical piece has four movements named after four villages in the inland of Portugal: Paul, in Beira-Baixa; Reguengos de Monsaraz, in Alentejo; Miranda do Douro and Paradela, in Trás-os-Montes.  All the places form an imaginary line throughout the eastern part of the country: Portugal's most forgotten and abandoned lands.
Over the hills consists of four film segments with Marecos' music as a soundtrack, plus a series of photographs. The four films reflect the idea of wandering, of a slow journey through peripheral places. The photographs reflect the films' photographic nature, by presenting images that seem to be (but are not) film stills. Over the hills, therefore, connects landscape and music, still and moving image.
Having the musical ambience of this piece in mind, photographer Eduardo Brito and pianist Joana Gama have done two 350 miles' journeys between these four villages. These two journeys served not only to collect the visual material (film and photography) for the creation of this work's visual part but they were also crucial in the preparation for the performance of the piano piece by Joana Gama: by applying the experience of the places to performance, the pianist is, in fact, in Paul, Reguengos, Miranda and Paradela when she plays the homonymous pieces.
Over the hills can be an illustrative work of the inland country, forgotten and abandoned. But this work's main goal is to establish connections between landscape and music – on its semantic path – and between still image and moving image: the filmic parts are profoundly photographic in its framing and composition. It is also a short narrative on slow roaming (the journeys were always done through secondary roads and lasted several days) presenting possible answers to the question of which images suit these musical pieces.
Opening – September 7th, 5 p.m.
September 7th, 6 p.m. at CAAA's  Black-Box
Live performance of the piano piece terras por de trás os montes, composed by Carlos Marecos +  video projection.
Joana Gama, piano
Eduardo Brito, projection.
Open every day, from 2.30 p.m. to 7 p.m.