Filipa Areias "The Seven Ravens" /17-30 october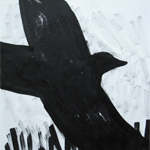 Grimm's fairytale — "The Seven Ravens" — is illustrated, in this exhibition, with the objective of creating a visual narrative that aims to complement the original tale.
In this exhibition, the images themselves assume a prominent role. However, they were conceived to be part of the magical object that is the book.
So that these images can be interpreted within a larger context, which is in itself part of the narrative, they were hung on the walls and suddenly seem to create a forest.
Without the text, the observer can create his own narrative, which can be more or less like the original one, but never less true.
In this context, the purpose of this exhibition are the observers' thoughts, their imagination, and their creativity.
Free Entrance
Gallery #4