Artistic residencies "Mãos Dadas" /November 5-27, 2011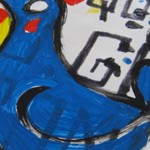 The result of 15 artistic residencies in 2011 made up the Holding Hands ("Mãos Dadas") exhibition. The permanent exhibition opens on the 5th of November, at CAAA, 4pm. The performing exhibitions take place at CAAA, on the days 12nd, 19th and 26th of November.
Holding Hands ("Mãos Dadas") is the second moment of the residencies meeting, included in the culture program of Guimarães 2012 European Capital of Culture. During 2011, hundreds of people were in their parishes with artists in different performances. In the local and artistic workshops, they made a construction with the common proposal – "Tell us about your place".
Holding Hands ("Mãos Dadas") artistic residencies

Artistic orientation: WALTER ALMEIDA

Exhibition: DESFILE DE CARNAVAL

Authors: Elder people from Briteiros parish
Exhibition: PAREDE DA MEMÓRIA
Authors: Elder people from Costa parish
Exhibition: VIDAS DO AVE
Authors: Young and elder people from Brito parish
Exhibition: CARAS DA COSTA – PRODUÇÃO DE AZULEJOS DE PAPEL
Authors: Childrens and families from S. Roque School
Exhibition: CORES DO MINHO

Authors: Childrens and teachers from Charneca School
Exhibition: POVOS DE BRITEIROS
Authors: Population from Briteiros S. Salvador, Briteiros St. Estevão, Donim, Gondomar and Souto Sta. Maria parishes
Exhibition: SABERES E VIVERES
Authors: Scholar population from Charneca School and EB23 das Taipas School and Hedmar workers and former workers
12th November, 4pm
Performance: HISTÓRIAS SEM FIM
Artistic orientation: ACADEMIA DE BAILADO DE GUIMARÃES
Authors: Elder people from S. Torcato parish
Performance: LUGAR ALAVANCA
Artistic orientation: RAFAELA SALVADOR
Authors: Young people from Campelos parish

Performance: LUGAR MEMÓRIA
Artistic orientation: RAFAELA SALVADOR
Authors: Elder people from Santa Eufémia de Prazins and Prazins Sto. Tirso parishes
Performance: LUGAR PARTILHA
Artistic orientation: RAFAELA SALVADOR
Authors: Population from Vila Nova de Sande parish
19th November, 4pm
Performance: MAIS UMA HORA DE LUZ
Artistic orientation: PELE
Authors: Population from Creixomil parish and Fraterna e Casfig users
Performance: RAPLAR DE S. JORGE
Artistic orientation: VIRTUS
Authors: Elder people from S. Jorge elderly home
26th November, 4pm
Performance: RETRATOS DA NOSSA GENTE
Artistic orientation: SPACE ENSEMBLE
Authors: Population from Guardizela, Moreira de Cónegos, Gandarela, S. Martinho de Conde, Lordelo and Serzedelo parishes