events /exhibitions
Délia de Carvalho: Insomnia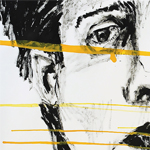 Opening: March 15th at 4pm
Until: April 27th
Faces without anchors, stripped in a place which is not theirs.
I was always interested in faces. They are the main vehicles for emotions and experiences, as singular identities. With them I look to unveil contained conflicts, blockings, absences, voids and doubts.
Here in Insomnia I portrait a generation in a kind of limbo, without knowing the path to follow.
Tânia Carvalho: Foolishness
Opening: March 15th at 4pm
Until: April 27th
In what it is her first solo exhibition, choreographer Tânia Carvalho presents at CAAA a series of drawings: an extension of her choreographic work through the representation of imaginary places impossible to achieve with dancers.
Biography
Tânia Carvalho was born in 1976, Viana do Castelo, Portugal. She started classical dance at five years  old and contemporary dance at 14 years old.
In 1994 she moved from Viana do  Castelo to study in the Fine Arts school ESTGAD in Caldas da Rainha. In 1995 she moves to Lisbon to study in Lisbon College of Dance and in 1997 changes to the two years degree of Contemporary Dance for interpreters in Forum Dança (Lisbon). There she meeted Filipe Viegas and Clara Sena who invited her to be part of a collective about to be born called Bomba Suicida. Tânia Carvalho is co-founder of Bomba Suicida where she keeps developing her work until now. It is in 1997 that Tania Carvalho starts choreographing.
In 2005 she attended the Choreography degree in the creativity and artistic program supported by Calouste Gulbenkian Foundation (Lisbon, Portugal).
She has been doing some experimente in music too, from which emerged the projects Idiolecto (2013), Moliquentos (2011), Trash Nymph (2008), and Madmud (2007). Tania Carvalho attended private music and piano lessons of piano with João Aleixo, Diogo Alvim and Youri popov.
Tania Carvalho mantains her plastic side drawing from time to time.