archive – oct / nov / dec
Five Openings, ursa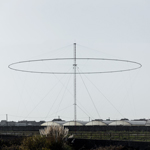 Opening Dec 16, 9pm / until Jan 27
Roundtable with Yehuda Safran on Jan 8, 7pm
How can a book determine the construction of an image?
And how in turn can an image determine the construction of a book?
What if past the 'linguistic turn' of the 1960s and the ensuing 'iconic turn' of the 1980s we could now look at the overlap of texts and images as a productive stance for the interpretation of phenomena?
With these questions in mind we took CAAA's challenge to use Yehuda Safran's library to open five new photographic projects.
We have brought to the table our images and the library's books, and thus set the room for a discussion on ideas.
Missa do Galo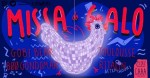 25 Dezembro
Missa do Galo 2017
with:
GOBI BEAR
800 GONDOMAR
TOULOUSE
RITALIN
Ticket: 5€
Price for members: 4€
Lisbon Revisited,by Edgar Pêra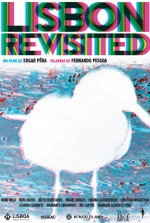 october 10th, 9:30pm
Lisbon Revisited, by Edgar Pêra
Documentary
M/12
POR, 2014, Color, 66 min.
QUEER CITY / CIDADE QUEER, by Danila Bustamante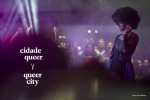 October 14, 5pm
36 min
Bodies that listen, dance, resist, manifest and become visible in our contemporary city. Bodies that dance the sounds of funk music, rap, samba, voguing, waacking, among other sonic styles of contestation, resistance and struggle.  Through talks, dinners, experiences and exchanges, a city seeks to discuss how we live, work, share and survive the different LGBT + stories and realities … And how we understand all this through a queer, intersectional and non-normative lens?
The mini-documentary "Cidade Queer - Queer City", directed by Danila Bustamante takes the name of the site-specific, one-year collective curatorial process in São Paulo, Brazil from 2016-17 by Lanchonete.org and ArtsEverywhere/Musagetes.
Permanências, Ricardo Alves Jr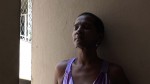 September 16th, 17h
34 min
"From the inside the air is heavier."
Direção/Direction: Ricardo Alves Jr. Roteiro/Screenplay: Diego Hoefel e Ricardo Alves Jr. Produção Executiva/Executive Production: Rita Cupertino Fotografia/Photography: Tomas Perez Silva Montagem/Editing: Ernesto Gogain Som/Sound: Pablo Lamar
Brasil – 2010 – 34min - HD
Festivais: Festival de Cannes – Competição Semana da Critica (França) Janela Internacional de Cinema do Recife – Prêmio de Melhor Filme (Brasil) Festival del Nuevo Cine Latino Americano de Havana(Cuba) Rencontres Internationales Paris/Berlin/Madrid 2011-2012/ Museu centro Pompiduo e Museo Reina Sofia Ostrava Kamera Oko (República Tcheca) FLEFF 2015 Film – Brazilian Short Films (Estados Unidos)
Ricardo Alves Jr. Director and scriptwriter, was born in Belo Horizonte in 1982. He graduated from Universidad del Cine, in Buenos Aires. Ricardo's first short film, RAW MATERIAL
(2006), received several awards in Brazil and abroad. INVITATION TO DINER WITH COMRADE STALIN ( 2007), his second short, was presented at Rotterdam IFF, Oberhausen, Karlovy Vary, and was awarded as Best Short Film at 40th Brasilia FF. His third short film, PERMANÊNCIAS ( 2010) was premiered at Cannes Critic's Week 2011. TREMOR (2013), his last short film, was premiered at Locarno Film Festival  and won Best Director at 46th Brasilia FF. In 2013, the  Cinémathèque Française presented a retrospective of his short films.
Blue in Turquoise Jaguar, by Daniel Lima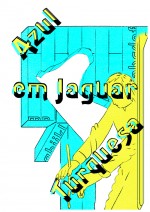 Blue in Turquoise Jaguar
by Daniel Lima
November 11th, 4pm / until January 27th
A series of images that do not respect narrative laws but are loyal to the fictional discourse of representations.
Daniel Lima is a illustrator and comic book author.
He has published works in publications such as Público, Mis Primeras 80,000 Palabras, Animalaminute, O Independente, Sunday Show, Conhecer Magazine and L'officiel by Duetto, among others.
He's a regular participator in exhibitions of both comic books and illustration.
Daniel is currently a teacher at Ar.Co in the Illustration / Comics department.
Mucho Flow 2017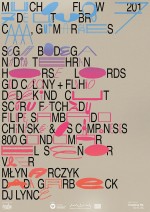 Mucho Flow 2017
Octuber 7th
CAAA, Guimarães
sega bodega
Nadia Tehran
Horse Lords
God Colony + Flohio
Dedekind Cut
Scúru Fitchádu
Filipe Sambado
Chinaskee & Os Camponeses
800 Gondomar
El Señor
Veer
Mlynarczyk
Dada Garbeck
DJ Lynce
Tickets:
https://www.ticketea.pt/bilhetes-festival-mucho-flow-2017/
— muchoflow.net/bilhetes
press@rvlv.net
Apoio: Câmara Municipal de Guimarães
Rádio oficial: Vodafone.FM
Lisbon Revisited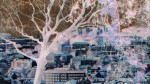 "Lisbon Revisited"
Edgar Pêra
September 9th until November 10th
Lisbon Revisited is an photography' exhibition and an 3D anaglyphic installation, composed by unpublished images and some frames taken from the film of the same name. The exhibition is composed by stereoscopic views of the green spaces in the city of Lisbon, frozen moments, temporary sculptures, one photo- oneiric journey, captioned by Pessoa's words. Now in CAAA in a specially designed version for this particular space.
SOLAR PARAMÉTRICA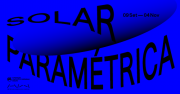 Diogo Tudela
September 9th until November 9th
Mechanical — Diogo Tudela
Atmospheric — Jonathan Uliel Saldanha
Speculative blending of the world-machine's exo-structure through the scenic instantiation of a non figurative mechanical and luminescent planetary model of radial movement, displayed in a heliocentric arrangement.
Technical Support — Igor Gonçalves
Graphic Design — Tiago Carneiro
Acknowledgements: Juan Luis Toboso, Tiago Patatas, Maria Luís Neiva,
Ricardo Areias, Vanda Trindade, António Cunha
Support: CAAA Centro para Assuntos da Arte e Arquitectura
Fundação Calouste Gulbenkian