archive 2015 – oct / nov / dec
(PT) Missa do Galo
Sorry, this entry is only available in PT.
CORRESPONDENCES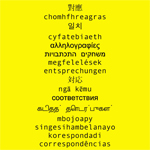 CORRESPONDENCES
Opening December 12 4pm / until January 16 2016
Curated by: Eduarda Neves
In a passage from a letter dated June 5 1977, included in LA CARTE POSTALE, Jacques Derrida states: "What I prefer in the postcard is that one doesn't know where the front is and where is the back, here or there, near or far, Plato or Socrates, recto or verso. Nor what is the most important, the image or the text, and in the text, the message or the address." This excerpt is taken as a reference for the project CORRESPONDÊNCIAS.
Published in 1980 in France, the above mentioned text is part of the criticism operated by Jacques Derrida to Western philosophical tradition and, despite its recognized markedly intertextual and meta-literary character, it configures, however, a political attitude. Without intending to render explicit the so-called thinking of the Difference, we can not fail to mention that this work concerns an operation to disrupt a system, making its logic(s) visible, deconstructing the logocentric, binary, thought, the oppositions of Western culture: good|bad, true|false, right|wrong, nature|culture, soul|body, light|dark, rational|irrational …
As Derrida correctly stressed, without "logoi" (concepts) no special class of connections is especifically "logic". It becomes imperative to force language, break it, disfigure it, force the concepts to say something else. In this movement against the origin, establishing the conditions of its impossibility, we affiliate the postcard as an open letter, without secret, front or back, without contrast between metaphorical and literal, rhetoric and logic. A figure working on speech.
Departing from this theoretical and critical framework we propose to develop the project CORRESPONDÊNCIAS in two axes, namely: (1) the programming of six contemporary art exhibitions with a clear focus on decentralization; (2) the organization of an international conference entitled DESTINATÁRIO DESCONHECIDO [UNKNOWN RECIPIENT].
Taking the statements of Jacques Derrida and the scope of the exhibition projects as our starting point, the postcard is not meant to be interpreted as a simple means of information but as production of subjectivity, process and experience, itself an agencement of CORRESPONDENCE. We propose to explore not just the linguistic, grammatical or rhetorical character of this notion but the use value it can acquire when inscribed in a chain of possible situations. A metaphor of equality, without front or back, here or there, image or text, the postcard is situated in the traffic of mail sent, received, recorded, forwarded, returned, stolen, lost, anonymous, confidential, inviolable; correspondence is also connection, communication, relationship, route, trip, trajectory, complementarity, reciprocity. So many ways, so many uses, such as the "meaning" that dwells in all types of connections, between language elements and our own linguistic interactions with the world. We also consider, in the Derridian way, the uniqueness of the right to secret as political right: communication and its opposite, the Other and the Same, CORRESPONDENCES.
At a time when everything is meant to be clear so that it can be communicable, when secrecy has no place when it is forced to yield to the totalitarianism of public space, to the excess of public confession, the possibility of incommunicability as a resistance tool will be claimed.
Louro e Bambu – segundo acto, figuração do exótico
Sorry, this entry is only available in PT.
Dupla Matona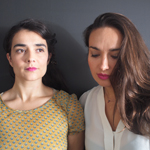 Dupla Matona
26 and 27 nov 9:30 pm / 28 nov 5:30 pm
Created by Alhelí Guerrero and Tânia Dinis
Script by Pedro Bastos
Two women. Two Cities. Two diaries.
Fragments of memories extended over time.
Duration 40′
Entrance 3€
Support:

LAND PROJECT: Placelessness , Daniel Pinheiro and Lisa Parra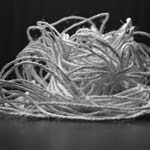 Saturday October 31st, 4pm
What are we in this strange place?
Where do we come from and where are going?
During this residency these were the questions that arised from sharing a same space… De-constructing the format which we are used to work with and finding ways to translate it while inhabiting the same physical space.
LAND PROJECT at CAAA is a construction, a figurative place divided in two where the screen no longer limits the action but, rather, is the only element left from a relationship built of different encounters exploring ways to move and be together while in distant remote locations.
1.The strangeness is put into play by inviting to other bodies into the space, establishing a mediated communication between them.
2. My body and your body. Where are you when your not looking or speaking to me?
The result of this residency brings LAND PROJECT to a moment of investigation of where technologies have detached the body and senses from a practical and present way of thinking.
The residency is supported by CAAA – Centre for Art and Architecture Affairs (Guimarães, Portugal) through the funding of DGArtes and the Secretary of State of Culture.
Daniel Pinheiro was supported by the THE LUSO-AMERICAN DEVELOPMENT FOUNDATION to participate in the 4th Choreographic Coding Labs (New York, August, 2015)
Admission: 2€
Supported by:

"It was only a moment for you", Candice Lin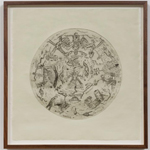 Opening October 24th, 4pm
Los Angeles based artist Candice Lin's solo exhibition "It was only a moment for you" is the core of the curatorial project presented at CAAA, from October 24th to December 6th 2015, by Valdívia Tolentino, Luís Pinto Nunes and Luís Albuquerque Pinho. With Lin's solo show as the project's foundation, the program unfolds itself in two distinct, yet complementary parts.
From October 24th to December 6th, the visitor is invited to an immersion in Lin's research-based process. The solo exhibition "It was only a moment for you" is a complex web of references tracing the notion of verticality and horizontality in sources as disparate as Chris Marker's film Sans Soleil (1983), Edouard Glissant's Poetics of Relation, Graham Harman's books Guerilla Metaphysics and Weird Realism.
Opening October 24th until November 15th, Lin will also present Plants in Transition, an on-going collaboration with Patrick Staff, where the artists challenge our understanding of the body, gender and nature.
In the second part of the project, opening November 21st with the exhibition Louro e Bambú – segundo acto, figuração do exótico, curators Luís Albuquerque Pinho and Luís Pinto Nunes will interrogate and reflect on Lin's research. This reflection is not intended as a literal reinterpretation, nor is it an attempt to contextualize Lin's work. Rather, it constitutes an open discussion arena for other authors' practice and investigation. Thereby the second part of the project is an invitation to interventions by the artists Catarina Miranda and Jonathan Uliel Saldanha, Dário Cannatà, Inês Castanheira, Isabel Carvalho, SVÄR, along with Candice Lin, in a trans-sensorial experience, that aims to subvert the idea of exotic and the subjective lexicon associated to it.
As an interlude between the two distinct parts, on November 21 st, the program will include the screening of two selected films, referential to the project, as well as the launch of an artist book on Candice Lin's research work for "It was only a moment for you".
Full Program
24.10–06.12.2015
First Part
24.10–06.12
"It was only a moment for you"
Candice Lin
24.10–15.11
Plants in Transition
Candice Lin and Patrick Staff
Intermission
21.11.2015
Interlude
Publication Launch
Screening
Second Part
21.11–06.12
Louro e Bambú
– segundo acto, figuração do exótico
Catarina Miranda and Jonathan Uliel Saldanha, Dário Cannatà, Inês Castanheira, Isabel Carvalho, S V Ä R, and Candice Lin
Biographies
CANDICE LIN
Candice Lin received her MFA in New Genres at the San Francisco Art Institute and her double BA in Visual Arts and Art Semiotics at Brown University. Lin's work has been recently exhibited at the Kadist Art Foundation in Paris, the Delfina Foundation in London, La Maison Populaire in Paris, and Alhondiga Bilbao, Spain. Lin has been awarded several residencies and grants including the Artist Lab Residency at 18th Street (2015), the 2014 California Community Foundation Emerging Artist Fellowship, the Fine Arts Work Center Residency (2012), the Frankfurter Kunstverein Deutsche Borse Residency (2011), and the Smithsonian Artist Research Fellowship (2009). She is represented by Quadrado Azul Gallery in Porto and Francois Ghebaly Gallery in Los Angeles.
LUÍS ALBUQUERQUE PINHO
Luís Albuquerque Pinho was born in 1978. He is a licensed architect, graduated in 2001 from Universidade Lusíada in Porto. From 2000 to 2011, he worked with Isabel Furtado and João Pedro Serôdio at Serôdio Furtado Architects, in Porto. Since 2001, Albuquerque Pinho has been undertaking several projects as the other half of Garcia & Albuquerque, Architects with Jorge Garcia Pereira.
In 2010 he started a Master degree in Museology and Curatorial Studies for Contemporary Art at the Faculdade de Belas Artes, in Porto. And in 2011 joined the Curatorial Residency at Node Center Berlin, where he worked on the thematic of curating as a transversal practice. In 2012, he took part in the Independent Study Program of MauMaus, included in MOMENT #3: NOMADISM AND DISSEMINATION for the Curators' Lab at Fábrica ASA, Guimarães. In 2014, Albuquerque Pinho attended Georges Didi-Huberman's seminar – L'EMOCIÓ NO DIU "JO", organized by Beatriz [Paul] Preciado upon the Independent Studies Programme – Macba, in Barcelona. He currently lives and works in Porto.
LUÍS PINTO NUNES
Born in 1988, Porto. Finished his BA in Fine Arts – Painting, at the Faculty of Fine Arts, University of Porto in 2010. In the same year, starts his MA in Artistic Studies – Curatorial and Museological Studies. In 2012, participates in Jürgen Bock's Independent Study Program of MauMaus, at Curators' Lab, Guimarães Capital of Culture.
In 2009, was one of the co-founders of Heart of Glass – Associação Cultural; in 2010 was the manager and curator of the curatorial project We Are Ready For Our [Close-Up]. Since 2011, he works at FBAUP Museum developing research and documentation on the art collection and collaborating in different curatorial projects, such as Cinco Séculos do Desenho na Colecção da FBAUP [2012]. During 2012, manages and works as conservator for the collection project ATLAS – Gabinete de Desenho e Gravura, funded by Fundação Calouste Gulbenkian. He is also a member of the collective geada. In 2012 he is one of the co-curators of the project HóSPEDE – Ensaio Curatorial, and in 2014 collaborates with the collective Sismógrafo for the exhibition Sem Quartel / Without Mercy.
Currently, Luís Pinto Nunes is the manager and curator of the Museum and Art Collection of the Faculty of Fine Arts in Porto, developing different exhibition and curatorial projects, such as Pure Print – Classical Printmaking in Contemporary Art [2013], xCoAx – Computation Communication Aesthetics and X [2014 e 2015], and 520 horas – obras do acervo do Museu [2015].
VALDÍVIA TOLENTINO
Born in 1984 in the Republic of Cape Verde. In 2002 is awarded a merit scholarship by Fundação Calouste Gulbenkian to pursue academic studies at the Architecture School of the Technical University of Lisbon, Portugal.
Worked in Lisbon and Paris, between 2007 and 2010, under the artistic direction of Ana Salazar, and later as member of Martine Leherpeur Conseil's creative team.
In 2010, she initiates a Master in Art Studies specializing in Museum and Curatorial Studies, at the Fine Arts School of the University of Porto, Portugal. In 2012, together with Luís Albuquerque Pinho and Luís Pinto Nunes, she co-curates HóSPEDE – Ensaio Curatorial, Porto, Portugal. In 2012, participates in MauMaus' Independent Study Program, coordinated by Jürgen Bock', at Curators' Lab, Guimarães European Capital of Culture. In 2013, concludes the MA dissertation titled To Create in the Desert of the Islands – Cape Verdean Creoleness in Creolization. Between 2012 and 2014 collaborates with Galeria Quadrado Azul, in Porto.
Parallel to the project presented at CAAA, she has been developing with Candice Lin the virtual exhibition "You are nothing or everything to her", for the platform ArtAfrica.info, website associated to the research project Dislocating Europe, by the Centre for Comparative Studies of the Faculty of Letters, University of Lisbon.
Currently lives in Paris and has been working for the Fondation Louis Vuitton since 2014.
Esta exposição tem o apoio:

LAND PROJECT, Daniel Pinheiro and Lisa Parra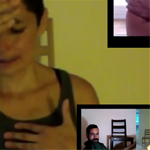 While in Residency at CAAA (Guimarães, Portugal), Lisa and Daniel inhabit the Blackbox – a space already known to be free of prior indexation and for both an unusual, unsettling and unknown space to 'be' together. The shimmering light of the screen disappears…
What is this strange place? Where do we come from and where are we going?
The questions seem to resonate from the very beginning and echo throughout the month of October where both artists leave the familiar context of a mediated relationship and decide to venture themselves into being present in the same space and time.
A week before their final showing of the process developed in Guimarães the space bounces between intimacy and detachment. With a low tech setup the architecture of the digital space is translated several times into various anagrams, objects, forms and ways of bringing together their own practice and intersecting it with the surrounding inputs.
The result of LAND PROJECT's residency will be shown the 31st of October – Saturday.
Blackbox, Centro para os Estudos da Arte e da Arquitectura.
Guimarães nocnoc 5
Sorry, this entry is only available in PT.
Playing with myself, by Cláudia Clemente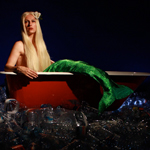 Opening September 12th, 4pm / Until October 9th
"Only by living absurdly is it possible to break out of this infinite absurdity." Julio Cortázar
I understand humour as the last possible form of resistance, and satire as a way to survive in a world every day more absurd, hostile and unintelligible.
This series was started in 2010, and it consists of an ensemble of apparently simple staged photographs using a multiplicity of characters: from Cinema classics ("The books quotes Hitchcocks' "The birds"; "Supermom" applies her super-powers to everyday's demands; "007" stares at you, gun and dry-Martini in hand) to illustrious national historic figures ("They are roses, Milord!"), revisiting portuguese traditional culture's icons (such as the Barcelos cock or the fish-seller), as well as many other paradigms and elements from the collective imaginary – the phoenix, the mermaid, the perfect housewife – in which I project and reinvent myself.
Counteracting the staging's apparent simplicity, there is a deliberate artificiality in the poses and the lighting, which reminds us that nothing in these shadow creatures of mine is natural. No realism is quested, but its exact opposite.
The intent behind the absurd portrayed in these characters is to create tension, to cause certain unease, to produce a giggle that will drag the observers, removing them from their comfort zone.
Let us then dive into the uncomfortable territory of introspection, of dreams, of darkness – the dangerous world that lies inside ourselves.
BIOGRAPHY:
Claudia Clemente was born in Porto in 1970. She is a writer, artist and film director. Originally trained as an architect, she studied Cinema in Barcelona and Lisbon. She published 4 books: a novel, two books of short stories, and a prize-winning theatre play.
Anotações sobre as nuvens, by Marta Leite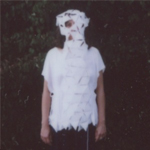 Opening September 12th, 4pm / Until October 9th
In the Exhibition "Anotações sobre as nuvens", Marta Leite questions landscape through events that take place above the abstract horizon.
In so doing, a parallel is created between the phenomena of evaporation and forgetfulness.
The body of work to be presented will try, through form and materials, to address the fleeting character of those phenomena as well as experiences, memories and feelings which have become dormant.
Bio
Lives and works in Berlin.
Graduated in Sculpture and New Media, at the Universität der Künste Berlin
(2010, title: Meisterschüler).
Exhibits regularly since 2006, particularly in the following venues: Museu do Neo-realismo (Vila Franca de Xira); CAAA (Guimarães); Altes Finanzamt (Berlin); Temporären Kunsthalle (Berlin); SIM Gallery (Reykjavik); Galeria Trama (Barcelona).
Awards and scholarships:
2015 Mediterranea 17, art biennial for the Mediterranean countries, Milan, Italy
Scholarship Support for Visual Arts, Caloust Gulbenkian Foundation
2014 Jovens Criadores 2014 (Young Creators)
2013 Scholarship International Visual Arts Program, Caloust Gulbenkian Foundation
Scholarship Support for Experimental Cinema, Caloust Gulbenkian Foundation for the film "Enxerto", co-directed with Catarina Laranjeiro
2010 Scholarships from Inov-art
2006 Scholarships for a travel project from Fundació Amigo Cuyás