archive 2017 – apr / may / jun
Stereotank – Marcelo Ertorteguy and Sara Valente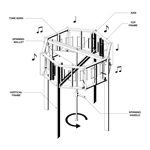 Opening June 10th, 4pm / until August 5th
Stereotank is a design studio founded by Marcelo Ertorteguy and Sara Valente, dedicated to the research and exploration of the common grounds between architecture, art and sound. The studio works as a laboratory for design and creation of architectural artifacts, immersive installations, hybrid objects and instruments often using repurposed materials and pre-fab systems. Stereotank focus is to re-invent program with existing resources, with the aim of looking at old things with a fresh eye, relying on simplicity and intuition. Understanding urban scape as the medium, one of the main interests at this scale is the activation of public space through the insertion of participatory projects that engage, entertain and educate the users.
Marcelo Ertorteguy and Sara Valente, propose a new site-specific sound installation at Largo do Trovador, in Guimarães. At CAAA gallery, there will be a retrospective exhibition about their work.
Marcelo Ertorteguy and Sara Valente graduated from the School of Architecture and Urbanism of The Universidad Central de Venezuela in 2005. After conducting a design studio about the common territories between architecture and music at the same school, they moved to New York to pursue a Master of Science in Advanced Architectural Design from Columbia University graduating with honors in 2007. They currently live and work in Miami.
Support:

triptychs, by Luísa Alpalhão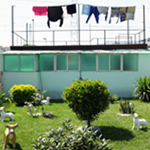 Opening June 10th, 4pm / until August 5th
[ triptychs ] is a series of photographic narratives of urban and rural transformation in three distinct contexts – Portugal, Okinawa (Japan) and London. Inspired by the Okinawan folk tale 'The Golden Bird', it depicts stories of resilience, reinvention, and demolition – three human acts that portray different approaches to spatial and social transformation. [ triptychs ] illustrates atypical beauties and functional aesthetics giving voice to the mundane, capturing what ones' eyes tend to dismiss. It presents an alternative story of the every day, distant from what is conventionally considered to be alluring, questioning the notion of territory and spatial transformation.
Support:

Performative Conversations Cycle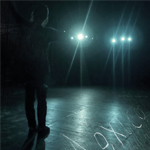 First Performative Conversation
Saturday May 13, 3pm
The first conversation of this cycle, functions as the preface to the rewriting of Antonio Pigafetta's logbook.
A conversation/journey between a mexican actor, performing on a gondola in Venice, when he is really in Buenos Aires. Or will it be, in the voice of the public / director, in the CAAA, in Guimarães, Portugal?
Dialogue 1:  David Colorado (Mexico) and Marcos Barbosa (Portugal)
Mediator: Public (Portugal/Argentina)
Support:

(PT) O QUE O CORPO ABRIGA, DE RENAN MARCONDES
Sorry, this entry is only available in PT.
(PT) MACUMBA VISUAL, DE ANA SEIXAS
Sorry, this entry is only available in PT.