archive 2016 – apr / may / jun
Book Launch – "Cia. Excessos: entre Arquivo e Práticas Contemporâneas"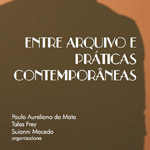 20 June 9:30pm
Organization: Paulo Aureliano da Mata, Tales Frey e Suianni Macedo
Authors: Ana Cristina Joaquim, Ana Hupe, André Luiz Rodrigues Bezerra, André Masseno, André Rosa, Angela Moss, Chrystine Silva, Cia. Excessos, Dinah Cesare, Élle de Bernardini, Fernanda Carlos Borges, Gustavo Rosa Fontes, José Carlos Henrique, Julia Pelison, Juliana Pinho, Júlio Minervino, Maciej Stawiński, Mafalda Remoaldo, Marcela Tavares, Mayara Amaral, Paulo Aureliano da Mata, Raphael Fonseca, Renan Marcondes, Rita Xavier Monteiro, Suianni Macedo Cordeiro, Tales Frey, Thais Nepomuceno e Vanja Poty
Publishing Company: Paco Editorial
ISBN: 978-85-462-0307-9
More information: http://www.pacolivros.com.br/Cia–Excessos/prod-4136246/
Passage, by Tales Frey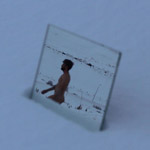 June 20, 10pm
Crossed in a double-sided mirror during my birthday rite of passage, my body is presented in a durable transition situation to occupy a single opening in the object used in this action.
On the one side, there is the image of my body to plunge into his own reflection, on the other, my body emerging. Equidistants, my matter and the reflection have the mirror as a link, as a zero point, which I surpass as a real and illusory form for scoring the desire of immersing a diametrically anachronous time established with respect to the logic.
This action effected exactly on the date when I complete 34 years old – 20 June 2016 – confirms, once again, my commitment in 2013 to turn my birthdays in performance art events to the rest of my life, creating an new action each year. All creations are repeated in order to make the rite of passage in an artistic/aesthetic ritual.
Parallel to this action, the records of all performances art about this series will be displayed together all process documentation of creative process, which can be showed as independents masterpieces.
credits:
Performance art by Tales Frey
Length: 60 minutes
Cia. Excessos
The museum of boughs: 4 rooms, by bruno neiva
Opening saturday 18th, 4pm
'The museum of boughs' is an ongoing, itinerant museum dedicated to boughs, composed of intermedia installations that allude to 'In a Station of the Metro' by Ezra Pound and the 'Musée d'Art Moderne, Département des Aigles ' by Marcel Broodthaers, among other references.
More information HERE
Trees Outside the Academy #2 – Collective Practices
Opening April 16 / Until June 11
"Trees Outside the Academy" repeating now in 2016 after the first venue in 2014, is associated to collective group practices, sometimes but not always collaborative, with a common ramification, grouped more or less formally, thus resulting in a distinctive practice with particular and confrontational character,  without blocking the emergence of clearly individual aesthetics.