archive 2013 – oct / nov / dec
The Shortest Day
December 20th, 11.59 pm.
21st of December is a day full of symbolism: the winter solstice is the shortest day of the year, celebrated by many civilizations as a day of renewal. It is the perfect day to celebrate short films, which heavily contribute to the renewal of film production.
"The Shortest Day" is an event that originated in France in 2011 and is currently celebrated in more than 20 countries. Either online, in cinemas or in different public or community venues, the viewing of short films during this short but intense day offers the public the opportunity to discover numerous film directors and their works. In Guimarães, CAAA partners with the Short Film Agency in a celebration that lasts all night long with short film presentations and several DJ sets.
More on the festival here [pt only]
Sunday matinee with Al Lover and Bando à Parte
Sunday, December 15th, 4:00pm.
The supposed symbiosis between Al Lover´s mixtapes, master of ceremonies of the esteemed Austin Psych Fest, and Bando à Parte´s short films is, at first glance, unimaginable. Revolve and Bando à Parte have sought, through this intertextual discourse, to create a unique artistic experience, blending Al Lover´s musical psychedelia with the oneiric and obscure dynamic of the short films by Rodrigo Areias and Jorge Quintela.
Zero Kelvin, by Hans Petter Molland
November 23rd, 5 pm.
Fernando José Pereira presents Hans Petter Molland's film Zero Kelvin (1995).
Partnership with Cineclube de Guimarães.
Zero Kelvin
Hans Petter Molland, 1995
Norway, Sweden
113 min.
English Subtitles.
Gard Eisvold is a restless, poor young writer living in Oslo who decides to get a little more worldly by joining an Arctic fur-trapping expedition. Leaving behind his girlfriend, Eisvold travels to Greenland, where he's confronted with the dual harshness of the elements and his profane station-captain, played with brilliant malevolence by the great Stellan Skårsgard. The captain doesn't take kindly to having a violin-playing, poetry-writing college boy around the cabin, and he begins to torture Eisvold in a cunning if none too subtle fashion. Soon, of course, they're at each other's throats despite each needing the other's help to survive the wilderness.

Trailer here
Fernando José Pereira: The Artist as an Arctic Explorer
Opening: November 16th, 5 pm. Artist talk at 6 pm.
November 23rd, 5 pm: screening of Zero Kelvin (Hans Peter Molland, 1995) presented by the Artist.
Exhibition: Galleries 1, 2 and 3, until January 5th 2014. Every day from 2.30 pm to 7.00 pm.
Fernando José Pereira presents, for the first time in Portugal, his arctic works: video, photography and installations, created, in different periods, in a triangle between Iceland, the Nordic peninsula and Svalbard. The selected works propose a political view on a fragile natural environment (an experimental lab of abrupt changes) and its slow turn in culture. This works also raises the question of temporality in these far places: spaces where the perception of time is based on a scale and rhythm different from what is commonly defined as contemporary speed.
Fernando José Pereira was born in 1961. Lives and works in Porto.
www.virose.pt/fjp
Sound Walk / Música Viva 2013
Opening: November 16th, 5 pm. Miguel Azguime's talk at 6.30 pm.
Gallery 4 until January 5th 2014. Every day from 2.30 pm to 7.00 pm
This is a collective sound installation offering visitors an immersion into distinct soundscapes under the theme of "text-sound composition". Satellite event of the Música Viva Festival 2013, the Sound Walk is the result of a selection of pieces, which derives from an invitation by Miso Music Portugal to composers of electroacoustic music from around the world.
António Ferreira; Portugal; Tempus Fugit; 03:11
Junya Oikawa; Japan; Growing Verse; 04:19
João Fernandes; Portugal; F; 04:55
Herbert Baioco ; Brazil; Griechenland: Ich liebe dich!; 04:31
Gerald Fiebig; Germany; Emptied Words; 03:57
Donika Rudi ; Albania; Emotion Machine; 05:00
Cesare Saldicco; Italy; Digressione Ipertestuale Nr.10; 04:22
Anna Korsun; Ukraine; Micromaa; 05:00
Damian O'Riain; Ireland; Ever Decreasing Circles; 04:31
Rosa Parlato; Italy; Transfert; 05:34
Anne-Claude Iger; France; La Luna ha perso il suo occhio; 02:08
Christian Banasik; Germany; Letzte Gebarde offener Munder; 04:59
Luis Marques; Portugal; Sing at 83.33Hz; 04:55
Christos Zachos; Greece; The Spell; 02:05
Ruud Roelofsen; Holland; Glittering Fragments; 03:35
Steve McCourt; Ireland; Ideomas (2nd and 3rd movement); 04:46
Sirpa Jokinen; Finland; Take a Winter Walk in the Garden with Jean-Jacques Rousseau; 05:13
Christos Alexopoulos; Greece; Is This Real?; 02:22
Denise Ritter; Germany; sphaira01_remix_2012; 02:52
William Price; USA; 2 Days in the Tank; 04:47
Vedran Mehinovic ; Bosnia/Herzegovina; Alpha State Suggestions ; 05:04
Thomas McConville ; Ireland; Cecilia; 03:50
Matías Couriel ; Argentina; Interference; 05:00
Emma O'Halloran ; Irlanda; Stochasticity; 04:09
Nichola Scrutton; Reino Unido; Word of Mouth; 04:00
Runtime: 105 min.
www.misomusic.com
Part of the Musica Viva 2013 festival.
Guimarães Jazz 2013 @ CAAA
November 7th – 11th| Guimarães Jazz @ CAAA
Guimarães Jazz 2013 Jam Sessions:
Sunday, November 10th, 7 pm
Monday, November 11th, 10 pm
November 7th-11th: Exhibition – Guimarães Jazz Posters 1992-2013.
Within Guimarães Jazz 2013, the CAAA – Centre for Art and Architecture Affairs presents an exhibition of posters that have publicized the festival over the years. Because each poster summarizes and brings to memory each edition of Guimarães Jazz, this exhibition is a real journey through the image, but also the content and the various spaces that have hosted the festival.
More info at www.ccvf.pt
Revolve + Bando à Parte concert series
November 1st| 10.30 pm | Black Box
Music: Destruction Unit + Unicornibot
DJ set: Tropical Acid DJs
This is the second of three dates of the film series and concerts at the CAAA, organized by Revolve and Bando à Parte.
Destruction Unit are a band formed in the desert of Phoenix, Arizona. Emancipated by the sonic landscape of the cosmos, these worshipers of the lawless wilderness consolidated their reputation due to their terrifying and unforgettable live performances, driven by a dizzying intensity and power. Their latest album, "Dead Trips", released by Sacred Bones in August 2013, is a front row ticket the death of the universe.
November 8th| 10.30 pm | Black Box
Music: The Growlers + The Glockenwise + Tomorrow's Tulips
DJ Set: RVLV + Bando à Parte
The last of the three dates for the film and concerts series in CAAA organized by Revolve and Bando à Parte brings us The Growlers.
The Growlers are an American band from California, heavily influenced by the psychedelic sixties, being frequently mentioned bands like The Doors, Country Joe and the Beach Boys, as a crucial part of their creative process. They are often seen as a surf rock band, but thanks to the carnival and circus tone of some of their songs their musical style was considered Beach-Goth. Their latest album, "Hung at Heart", edited by Everloving Records, was released in 2012.
Noc Noc at CAAA
Guimarães Noc Noc. 2013 edition at CAAA;
Saturday, October 5th at 4pm, 6pm, 10pm and 11pm
Sunday, October 6th at 4pm and 6pm
I Do
Installation/performance
'The Collaborators':
Luis F. Carvalho, Laurie Werner Marx,
Ana Caldas Araújo, Rebecca Bogue,
Carlos Correia, Joao Guimarães _
+_ Performers.
Saturday 5th, 5pm
Music – Pedro Couto Soares (flute)
"Fragmentss"
by Makoto Shinohara
+ "Le Chanteur du Val- Serezina"
by Cândido Lima
Sunday 6th, 3pm
When two become one
(who wins who won)
Performance
Gordon Douglas
Saturday 5th e Sunday 6th, 2.30-7pm
s/ título
installation
Luis Plácido Costa
Independência
installation /
performance
João Belga / Nuno Bettencourt
we've been fighting
over rotten potatoes
Photography
Maria Begasse
Geographias
Drawing + Painting
Alexandra Pereira
Please, do not enter!
Photography
Délia de Carvalho
expansão | contracção
Photography
Maria Begasse
noc noc signage project
Screen print
Hardware
+ CAAA exhibitions
On the Stone Road
Painting + Installation
Chihiro Ito
Untitled Guimarães 2013
Installation
Hiroshi Ito
The Past is Now
Painting + cinematographic performance
Kaori Ito
Japanese Cinema
Alongside with the exhibitions from Hiroshi Ito, Chihiro Ito and Kaori Ito, CAAA, Cineclube de Guimarães and Velha-a-Branca, from Braga, present a cicle dedicated to the Japanese Cinema, curated by Miguel Patrício. In Guimarães and in Braga, the program is the following:
CAAA – October 26th– 5 pm
What Happened in the 1960′s? Radicalism and plastic changes on the japanese cinema - A lecture by Miguel Patrício
CAAA – October 27th– 5 pm
Kwaidan, by Masaki Kobayashi, 1964
Trailer + info here.
Velha-a-Branca – Radical Transgressions: The Cinema from the Japanese Art Theatre Guild. [Oct 2-26] Full program here.

Art Conversations: Hiroshi Ito and Chihiro Ito
Saturday, October 12th, 5 pm.
Artists Hiroshi Ito and Chihiro Ito, both currently with exhibitions at CAAA, will present their work and processes, in a lecture open to debate and conversation.
A short concert by Pedro Couto Soares (flute)
October 5th, 5 pm.

Works: "Fragments" by Makoto Shinohara and "Le Chanteur du Val- Serezina" by Cândido Lima
More on Pedro Couto Soares here.
ZENergia – Expressoriente Duo
Saturday, October 12th, 6pm.
In ZENergia the challenge is to have Japanese influences in music but never denying the Portuguese cultural background and to gather European music with echoes of oriental aesthetics, with works from Toru Takemitsu, Rui Dias and Kazuo Fukushima. Guitarist Carlos Lima and flautist Gil Magalhães created the Expressoriente Duo in 2006 to explore unusual sounds. With several presentations already with both original works and transcriptions and arrangements with different musical forms this duo is interested in searching sounds that synthesize Eastern and Western traditions.
Electric Eye + Evols
October 18th, 11pm.
Revolve and Bando à Parte decided to create a set of concerts and movies at the CAAA. This first set starts on 18th October and will feature Electric Eye and Evols. Electric Eye are a Norwegian quartet whose sound go between psychedelic and space rock, always spiced with hints of blues and traditional Indian music with a fertile imagery. Evols are a quintet from the coastal city of Vila do Conde, navigating the depths of the psychedelic, the false naivety of pop and the rhythm of the blues. Also in this first set of concerts we welcome the Galician Unicornibot and the Americans Destruction Unit, Tomorrow´s Tulips and The Growlers.
Hiroshi Ito – Untitled in Guimarães 2013 | Chihiro Ito – On The Stone Road | Kaori Ito – The Past Is Now
Opening: October 5th, 2.30 pm. Until October 27th, every day from 2.30pm to 7 pm.
During September, Japanese artist Hiroshi Ito was in residence at CAAA. During time spent in the city, Hiroshi conceived and produced specifically to CAAA, a series of works that are now the exhibition Untitled in Guimarães 2013. In October, Hiroshi is joined by Kaori Ito, presenting The Past is Now, a cinematographic performance and painting exhibition and Chihiro Ito, back to Guimarães and CAAA after an unforgettable visit and performance in 2012. Chihiro presents the painting and installation On The Stone Road.
More on the artists here:
Hiroshi Ito: www.hiroshiito.tumblr.com
Chihiro Ito: www.chihiroito.tumblr.com
Kaori Ito: www.kaoriito.com
Parallel events:
On the opening day | 5 pm @ the galleries
A short concert by Pedro Couto Soares (flute)
Works: "Fragments" by Makoto Shinohara e "Le Chanteur du Val- Serezina" by Cândido Lima.
October 12th | 5pm | Black Box
Art Conversations: Hiroshi Ito and Chihiro Ito
October 12th | 6pm | Black Box
Concert: ZENergia – Expressoriente Duo
October 26th and 27th | 5pm | Black Box
Japanese Cinema
October 26th | 5pm | Lecture by Miguel Patrício: "What happened in the 6o's?" (with film projections)
October 27th | 5pm | "Kwaidan" de Masaki Kobayashi.
Partnership with Cineclube de Guimarães and Velha-a-Branca
Artist in residence – Hiroshi Ito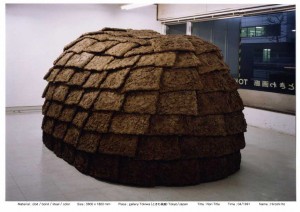 Japanese artist Hiroshi Ito is in residence at CAAA during September. Hiroshi, whose works have been presented over the past 30 years, will be developing his creations for his exhibition in October. During this residency, the artist presents his work in progress to the public in an open studio session.
"Although my works appear to be dependent on their material (soil), they rely more on nature or elements of chance that are free from properties inherent to that material. The unique aspect of my works is that they only become complete works of art when they are supported by viewers' minds that are obedient to the appearances of objects, and only after the works have been incorporated into the surrounding scenery and natural phenomena. 
My works are in a new phase that is beyond the egoistic expressions created by human beings. My works are deeply rooted in my view of nature. 

・・・・・・・・・ Some Thoughts on Our View of Nature ・・・・・・・・・・・
We tend to erroneously believe that nature and human beings are mutually exclusive in our modern society. Moreover, we assume mistakenly that our problems can be resolved by ruling nature. Modern society justifies itself by keeping a distance from nature. As a result, it imprisons human beings within an illusion of superiority. 
We, however, gradually become aware of our arrogance. Nature is not competitive. It values freedom, and adores the notion of coexistence.  One's view of nature is fluid. It is one's way of living; in other words, it is how one relates to nature."