archive 2012 – Jul / Aug / Sep
KungFuTrunx/Frankenstein / 29 september 10pm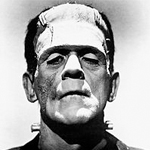 KungFuTrunx/Frankenstein: Composed by 3 elements, this project is a kind of soundtrack of the film "Frankenstein" directed by James Whale in 1931. While the film is projected the band is playing live during the film action. Duration: 1h10m Entry: 4€
EXP#01 /august 29th to september 4th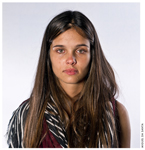 EXP#01
The exhibition EXP # 01 in CAAA presents a selection of the final works of the students of the Postgraduate Course in Photography at the Escola das Artes, Universidade Católica do Porto. The works in this exhibition are not merely the culmination of an academic stage but an initial step for what we hope to become a prolific photographic and artistic career. All the authors have very different techniques and themes, and they are all unique in their approach to the classical genres of the History of Photography, such as portraiture, landscape or street photography. Some works are more personal and intimate, others may seem more distant and neutral, but they all show different paths and possible interpretations that each author decided to undergo in his photographic work.
Entrance Free
REVER A CIDADE /september 7th to october 7th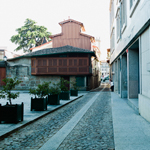 Inspired by the photographs belonging to Muralha, a Guimarães Association for the Protection of Heritage, the photographers Carlos Lobo and Inês d'Orey decided to rephotograph the city, according to the Muralha Collection's original images. Exploring different meanings in the images of a photographic archive under construction, the two photographers, through their different languages and aesthetics, tackle the perception of time and its passing by creating new images that attribute a fresh meaning to those in the archive: spaces, absences, changes and permanencies are presented to us through a groundbreaking photographic relationship.
Entrance Free
Opening september 7th at 7pm
O FILME DA MINHA VIDA #3 Sétimo Selo /7-28 september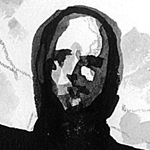 The collection O FILME DA MINHA VIDA (The Film of My Life) is the result of a challenge to portuguese illustrators to produce a comic book inspired on a film that had meant something to them. This interlacement between the seventh and ninth art is directed to those who love both.
Jorge Nesbiit is the author of this third exhibition named SÉTIMO SELO (Seventh Stamp),  inspired by Ingmar Bergman's namesake's film.
SKYLIGHT /4 – 26 august
Opening august 4th 6pm
Jorge Santos is one of those artists who deal with the immaterial. One of those artists concerned with, more than with things themselves, the relationships between people and things, natural phenomena and the processes of perception. He has that exploratory drive shared by poets and scientists alike. Under the influence of this inquisitive toil, he builds up spaces that are small visual poems, for us to enjoy their formal beauty for what it is; and yet, while enjoying it, we discover, wide open just deep in the palate, this intense presence of flavour where a multitude of shades is revealed. A multiplicity of chains of thoughts that collide to the retina; because we "see" them, we re-live them, as if the electric impulse set by our optic system to our nervous system could be sent back by our brain, in some sort of inversion of the perception process.
Ana Lamata
+info: Jorge Santos
free entrance
gallery #3
Subtopia /4 – 26 august
Opening august 4th 6pm
Assuming a descriptive mood, these photographs endorse landscape as a cultural construction. They look into urbanism and architecture as ideological epitomes, seen through the organization of public spaces.
As visual fragments of a non-existent whole, they intent to create an imaginary new town by assembling photographs from five different towns, chosen according to the different historical and political phases of the New Towns programme, Stevenage (1946), Harlow (1947), Cumbernauld (1955) Runcorn (1964) and Milton Keynes (1967).
Performing a dual subjective mode, as documents and as artistic representations, the photographs look at and trace distinctive elements of the landscape design and architecture, aiming to create an allegory of the UK New Towns.
Paulo Catrica
free entrance
gallery #1, #2
GRASSROOTS MAPPING IN GUIMARÃES /18 july 7h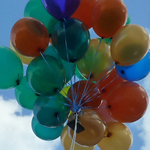 James Bridle is a writer, publisher and technologist based in London, UK. One of James' passions is mapping. Whether this is for useful stuff or very peculiar stuff, he has probably done it. James has already visited Guimarães in May and ran a low tech workshop (Walking the Streets) at LCD. People mapped the city by using 'walking papers' and they have been adding to it ever since. In July James is running a workshop called 'Walking the Sky' where participants will create an aerial map of the city by using weather balloons and cameras. See http://grassrootsmapping.org/ for some of the techniques used.
In the presentation James will show some of the findings from the two workshops and talk about mapping principles, what it means for a city to be open and how important it is to have control over this type of data.
The presentation is open to everyone, including those who have been to the workshop at LCD during the day. It will start at 19.00 at CAAA and will be an hour. There will be room for questions afterwards (open for everyone, first come first serve)
For more information about the Open City programme please go to: www.watershed.co.uk/opencity
And join the Facebook page: www.facebook.com/opencidade
Note: this presentation will be in English and is open to everyone.
Gallery #4
A Short Conference by John Mateer /3 july 6h30
John Mateer, australian poet and critic visits CAAA for a talk about art, culture, travels and hybridity. Focused on certain aspects of Australian art and its relation with the asian continent, the conference will also focus on the reflection of economic and cultural relations in art production.
Free admission
In English, no translation
More on John Mateer
Performance Architecture /16 june-29 july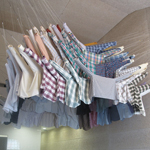 An international competition curated by Pedro Gadanho for the construction of up to five temporary urban interventions within the Guimarães 2012, European Capital of Culture (amongst architects, artists and designers, in multidisciplinary teams) Performance Architecture intends to map out recent spatial strategies that, by reactivating approaches to Performance practices, provide new outlooks on the role of architects and other creatives in a broad urban context.
Through the contribution of new ideas and by the presence of leading practitioners in the field (as jury members, as part of a small retrospective exhibition, as conference speakers, etc.) Performance Architecture thinks about spatial interventions that refer to the role of the consciousness of the body and of a social critique in reinventing public space.
Free entrance
Gallery #1